Canal du Midi: From the Mediterranean Sea to the Atlantic
Canal du Midi was finished in the year 1681 and is 240km long, an ambitious water route between Toulouse and Sète. And thus the Mediterranean Sea was connected to the Atlantic! Realizing the dreams of many rulers to ease the traffic of trade and passengers.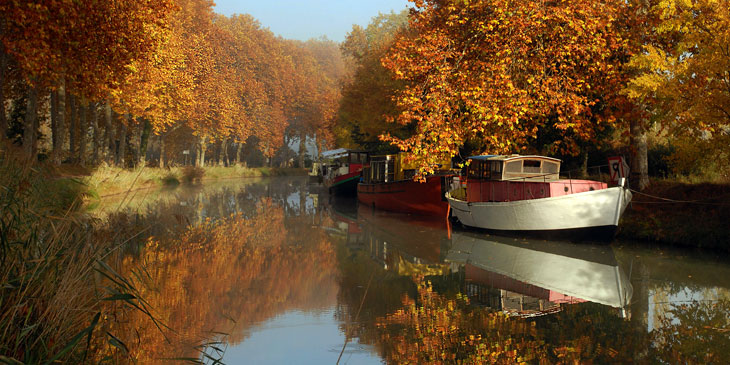 Nowadays, Canal du Midi is purely a travel destination, where you can navigate through the canal with a barge. The popularity is tremendous, as the channel was was declared a Unesco world heritage site in 1996.
The Dream of the Kings
Ludvig XIV had been contemplating on a water route that would combine the two oceans, just like his forefathers had. Colbert, the minister of the 'Sun King' was interested in a canal technique that was developed by Pierre-Paul Riquet who was born in Béziers. A persistent farmer, entrepreneur and banker who's efforts were rewarded with permission to start working in 1667.
The work lasted for 14 years. Approximately 12 000 men dug with shovels and hoes to create the channel that connected the two oceans on opposite sides of the country. Also women took part in the task. Riquet even constructed a wage and social security system for the workers, so they would have the patience to come and work for the channel.
Mediterranean Connected to Atlantic
In the year 1681, 'Canal du Midi' was completed and the 240 km long channel reach it's destination from Toulouse to Sète. The dream of the two Romans, Ludvig XIV and Pierre-Paul Riquet had been realized. However Riquet passed away only few months before seeing the completion of the ambitious project.
On the best days, passengers could be translated from one end to another in just four days. Which was a significant achievement in those days.
Freight Transport Stolen by Railway
A new invention, a significantly faster railway started to steal the channel operated freight business. Wine, grain and cole were put on train wagons for faster transport in the end of the 1800's. The very last freight activity was seen in the 1970s. But during the time of it's operations, architecturally valuable monuments such as bridges, sluice gates, guard booths and the surrounding village communities had been erected. Which started to gain the attraction of tourism and visitors. In modern days, Canal Du Midi is simply a travel destination.
Tourism Serving Channel
The popularity of the channel has been tremendous, with it's historical monuments and a status as a Unesco world heritage site. Visually the place is striking with a combination of interesting architecture and natural surroundings. With picturesque beauty surrounding the water. Making it one of my favorite travel destinations in France!